Alessandro Del Carratore
Manager
Manager
At the end of the 90's Alessandro Del Carratore joined the company alongside his father and aunt to take care of the administrative and financial department of the company, after completing his studies and training courses in the sector.
He is fond of mountaineering and since he was a child he has always been attracted by extreme sports. A sport that creates emotions and amazements and that requires mental cleanliness, readiness, physical energy and spirit of decision, a quality that Alessandro always tries to stimulate and refine in his outings on the summit.
"... even if I fit a size less than shoes compared to my father, I try to tread on his footsteps and those of my my grandfather; for a company, History and Tradition are the added value of today and tomorrow, and my sister and I are proud of our history and of our Augusta. We started this journey together and along the way we have tried to divide roles and tasks, in order to be able to do our best and offer a professional service to our customers. We are a perfect team, the homogeneous team that allows you to climb any summit! ".
Digital strategy planner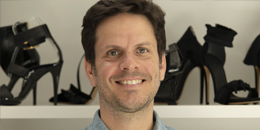 Alessandro, besides taking care of the financial and administrative sector of the Augusta shoe factory, collaborates in the development of corporate strategies relating to the digital environment and their evolution and implementation in the company.